Working with the Sandbox Server
Mydex offers a completely sandboxed environment (https://sbx.mydex.com) to test applications before they run on production. This is where you can create your own sandboxed PDS and test out your application. You can make API calls to the accompanying API server at https://sbx-api.mydex.com.
If you have not already done so, you should register for a developer account to be issued an API key.
The next few steps will show you how to set up a dummy member account on the Sandbox server to test out the Connection API.
---
Setting up a Sandbox PDS
Go to the Sandbox server and sign up for an account for the dummy member.
Fill in as much of the PDS on the Sandbox as you want, but please do not enter any real data on the sandbox environment. This demonstration will require that you have at least entered some artificial information on the basic "personal details" section, including a first name.
Make sure that you press "Save" once you have entered these details on the Sandbox account.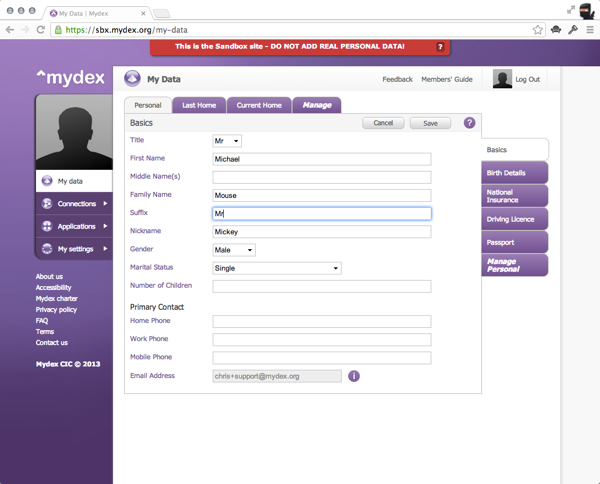 ---
Granting permissions to the Developer Test Connection
With a developer and dummy member account, the next stage is to enable a connection to the dummy member granting permissions for API requests on their PDS.
For development and testing purposes, you can use a Developer Test Connection. This connection has all access permissions enabled for API requests. To enable this connection:
When signed into your dummy's PDS on the Sandbox server, navigate to the Connections section.
Click on the "Manage connections" tab.
Click the "Add Connection" button next to the "Mydex Developer Test Connection"
Expand the 'Permissions' section. If applicable, grant permission to multiple instances of the same dataset by selecting the instances with Ctrl/Cmd + click.
Scroll to the bottom of the page and click "Submit".
If you decide to add more datasets to the dummy member account after you have activated the Developer Test Connection, the new datasets will not be accessible via an API request until the above steps are repeated and the datasets that you wish to be accessible have been added to the Developer Test Connection.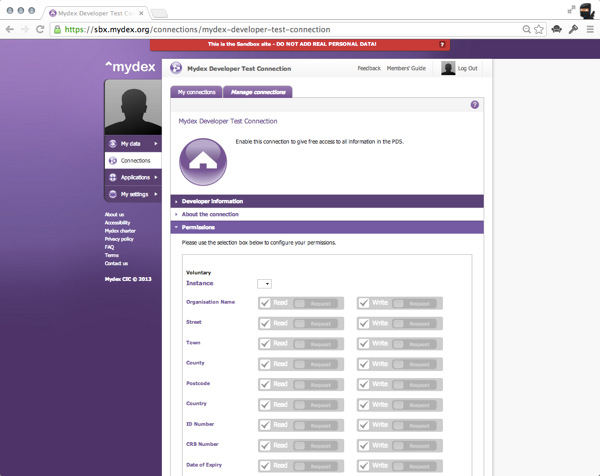 ---
Now you are ready to try making an example Connection API request to the PDS, to see for yourself how it works.