Repo / Fork
It is often easy to start from an example of how its done. We have made public some example applications and connections that we developed internally as part of our teams training and demonstrations we have created to showcase how the Mydex platform can be used.
Try one of them out now - Z9 Mobile
An example of our simulated connection between Z9 mobile and the Mydex platform can be found here.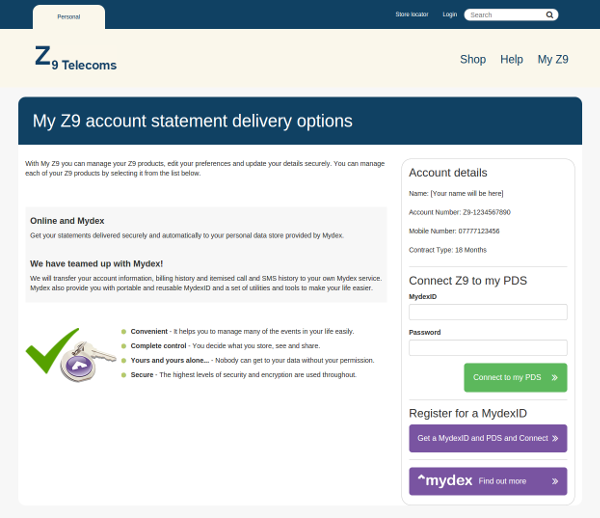 It will give you a sense of two simple journeys that use a basic wizard approach working with our API's
First time connection and registration for Mydex at the invitation of Z9 mobile while their customer is logged into their online account.
First time connection between their Z9 customer account and their existing Mydex Personal Data store.
In both cases once the connection is made Account, Billing and itemised call and SMS history is delivered over the API directly to the individuals personal data store from where it can be visualised and reviewed.
This simulation works against our Sandbox so if you follow the simulation through which only takes a few miutes you will end up with MydexID and Personal Data Store on our Sandbox environment.
You can view the code for the Z9 wizard here and make a fork of it for yourself if you wish.
We have other example applications, personal data store and identity connections and combinations of these. We hope you find them useful. Please feel free to fork them and use them to suit your needs.